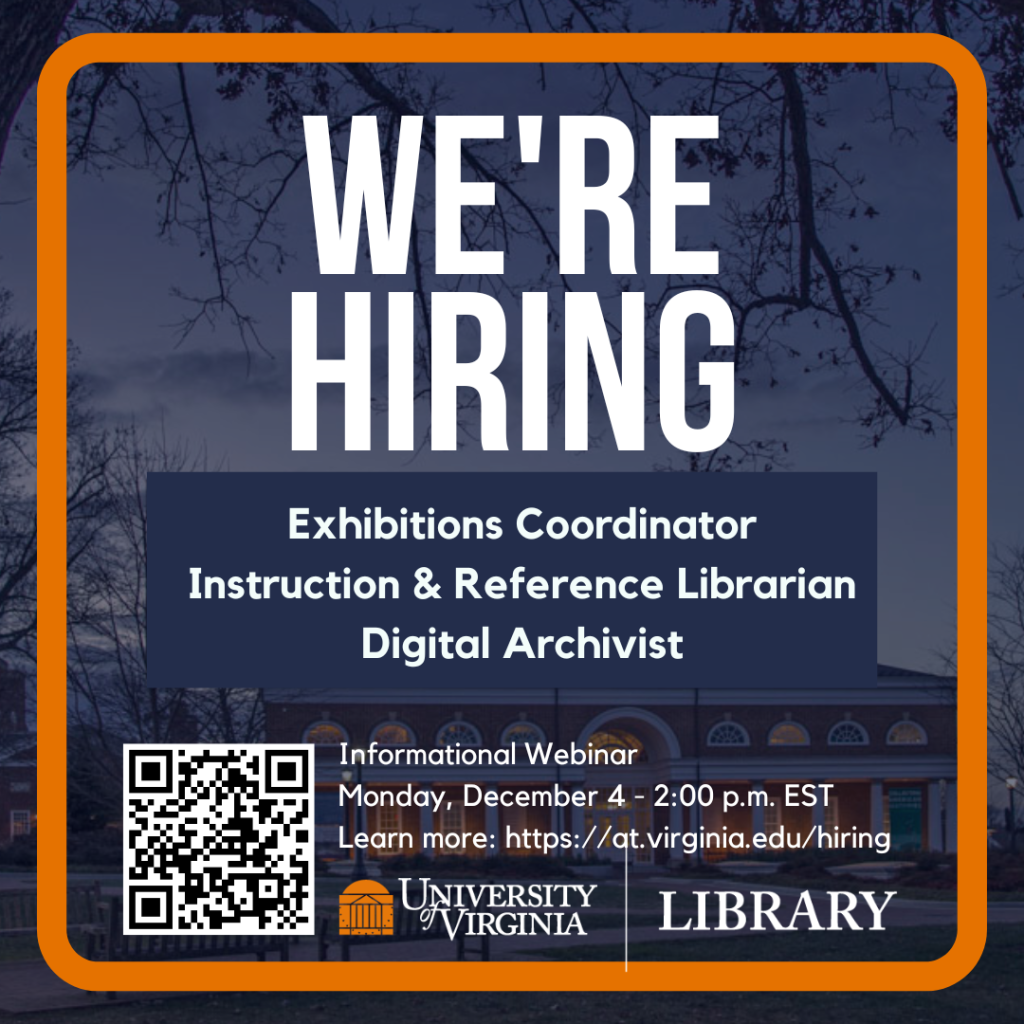 Join us for a virtual information session on Monday, December 4, 2023 at 2:00 p.m. to share details of three open positions in the Albert and Shirley Small Special Collections Library: Exhibitions Coordinator, Reference and Instruction Librarian/Archivist, and Digital Archivist.
Register for full details—or, to receive a recording of the webinar if you can't join at the scheduled time: https://virginia.zoom.us/webinar/register/WN_4E-mssAKRj2pY0Ij0zSyZw
Exhibitions Coordinator
Status: Apply online in Workday; application review starts December 6, 2023
Reporting to the Curator of Exhibitions, the Exhibitions Coordinator will assist in the planning, production, promotion, and management of physical and online exhibitions. This role also supports the Library's Registrar functions to track, document, and prepare materials requested for loan by internal and external organizations, and is a key member of the Small Special Collections Library's outreach effort, assisting in programming, events, tours, social media, and other activities that promote exhibitions and the accessibility of our collections. 
Digital Archivist
Status: Coming soon to Workday 
Reporting to the Head of Technical Services, the Digital Archivist facilitates acquisition, processing, discoverability, and access for the rare and unique holdings of Small Special Collections. This position will primarily be responsible for processing digital archival materials, utilizing ArchivesSpace to create finding aids and digital objects for online publication to full national standards. Primary duties will also include leading and managing the Special Collections web archiving program. 
Reference & Instruction Librarian/Archivist
Status: Coming soon to Workday 
The Reference and Instruction Librarian/Archivist will join the reference team in Special Collections and will report to the Head of Operations. This position will be responsible for providing excellent research support for students, faculty, scholars, and community members in addition to providing instruction support for students. Duties include managing reference desk, responding to remote reference requests, and reading and interpreting library catalog records and finding aids. 
About the Small Special Collections Library:  
Staff in the Small Special Collections Library steward an extraordinary collection documenting American history, particularly early American; American and English literature; bibliography, book history, and book arts; African American studies; the built environment; history of the state of Virginia and the University of Virginia; and material culture. As significant as our collections are, we recognize that there are silences and gaps in the documentary record.  The ideal candidates for these positions are intellectually curious and eager to learn the stories revealed in our collections, to build upon them, and to share them widely. 
Thank you for your interest in our job openings!