This post in celebration of National Teachers Day (May 4) was contributed by Ellen Welch, Manuscripts and Archives Processor at the Small Special Collections Library. 
The Ralph Cohen papers and New Literary History records were transferred from the University of Virginia English Department to the Albert and Shirley Small Special Collections Library where I had the opportunity to process the collection and make them available to our patrons. The collection reveals the extraordinary knowledge of Ralph Cohen as an English professor and founder/editor of the New Literary History journal. I have thoroughly enjoyed processing the collection. One of my favorite things is that, through his papers, Ralph Cohen is still teaching anyone who uses this collection. His research notes are the barebones of his lectures and they are extremely thorough and educational. Another thing that really comes across in his papers is how much Ralph Cohen cared about individuals, about society, and how he wanted to find meaning in everything that he knew and then to share it. I would like to celebrate him on National Teacher Day!
—
Ralph Cohen (1917-2016) taught English literature for more than sixty years including 42 years at the University of Virginia as the Walter J. Kenan, Jr. professor of English (1968-2010). He also taught at City College New York, UCLA, and James Madison University. He was born to Polish immigrant parents in Paterson, New Jersey on February 23, 1917. Dr. Cohen was a scholar of Eighteenth-Century British literature and Philosophy. He was among the most eminent critical thinkers and educators of twentieth-century America. His preternatural ability to illuminate and account for diverse positions on theory at professional conferences was legendary. His innovative concept of technology led to the establishment of the Cohen Center for the Study of Technological Humanism at James Madison University. He focused his teaching and research on criticism, genre, literary theory, and history. His celebrated transactive classroom strategies frequently attracted colleagues and devoted students to his courses. He taught and mentored many generations of students, preparing them for lives and careers as teachers and scholars. He maintained contact with many of his students and made recommendations supporting their teaching, fellowships, and tenure positions throughout their careers. Cohen was a dedicated teacher who really cared about literature and his students. This letter is an example of the kind of impact that Ralph Cohen had on one of his many students:
In addition to being a dedicated teacher, Ralph Cohen founded the international scholarly journal, New Literary History in 1969 as a new type of academic journal devoted to exploring literary and cultural questions and defining literary terms that could be debated among literary theorists. University of Virginia President, at the time, Edgar F. Shannon gave Cohen three years to make the journal successful as part of the Sesquicentennial Celebration at the University. At the end of the third year, there was no question about the success of the journal. It was the first literary journal of its kind because it was founded on the new idea that literary study could be properly pursued only through understanding its interrelations with other disciplines such as art, music, science, anthropology, religion, sociology, psychology, and philosophy. Major literary and art critics from the United States and Europe had contributed articles, including the historian Hayden White, the scientist, Stephen Jay Gould, the music critic, Leonard S. Meyer, and numerous women artists and scholars, such as Patricia Stone, Rachel Trickett, Barbara Hernstein Smith, and Joan Weber. This interdisciplinary approach to literary history also showed how literary history was helpful to understanding aspects of everyday life, culture, and society. Following this idea, Cohen created the Commonwealth Center for Literary and Cultural Change in 1988 at the University of Virginia, which he directed from 1988 to 1995. The interdisciplinary research center, Cohen wrote, "had as its primary aim the study of change and continuity in individuals and institutions in the arts, humanities, sciences, and social sciences."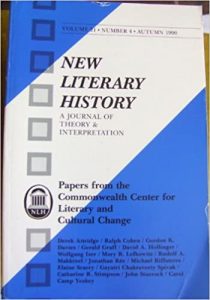 New Literary History is now in its fifth decade and has become an award-winning journal with its impact resonating around the globe. The journal has introduced numerous thinkers from France, Germany, Hungary, the Czech Republic, Russia, China, and elsewhere to an Anglo-American academic audience. In turn, New Literary History became the first English language literary journal to be translated into Chinese. Cohen included many diverse voices in the journal to represent more people with different perspectives. This diversity included women, minorities, and people from different cultures from many parts of the world. University of Virginia President Emeritus and University Professor John T. Casteen III, noted that the journal "has served a dual purpose: it has been both the touchstone for the community of scholars of literature within this one university and a global forum for wide-ranging scholarly discussion and debate among writers and critics in every place and of every persuasion."
Ralph Cohen founded the Commonwealth Center for Literary and Cultural Change at the University of Virginia in 1988. He published the papers written by the Center in the New Literary History Journal. The addition of these articles made the New Literary History a quarterly journal.
Ralph was known among graduate students as one of the hardest working senior faculty, not resting on his international reputation but still racking up book after book, article after article. His students truly appreciated him. At UCLA and at the University of Virginia since 1968, Cohen attracted a following of graduate students, humorously called "Cohen-Heads" in the days of the "Cone Heads" on Saturday Night Live, to courses entitled "Genre," "Theories of Literary History," "Classic to Romantic," and "Problems of Literary Theory."
Even though Ralph Cohen was an editor of a preeminent theoretical international journal of the only one of its kind in the world, and a director of the University of Virginia Commonwealth Center for Literary and Cultural Change, Cohen considered himself first and foremost, a teacher. Ralph Cohen died on February 24, 2016 at 99 years of age. To learn more about Ralph Cohen's legacy, view UVAToday's In Memoriam or watch the October 14, 2010 interview at James Madison University where he talks about books and New Literary History.